Friday Morning Sports Update-10/16/2020 | WSJM Sports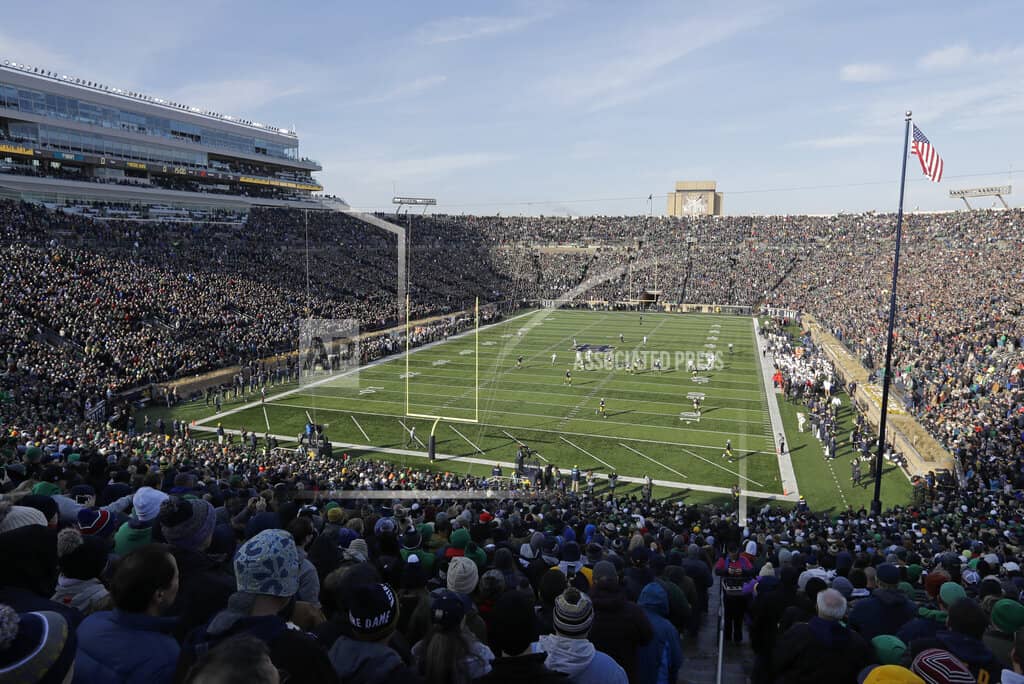 NCAA Football – No. 4 Irish seek tighter defense vs struggling Louisville
Brian Kelly knows if No. 4 Notre Dame expects to play for championships in December and January the Irish will need to improve defensively starting with Saturday's visit from Atlantic Coast Conference foe Louisville. After not playing in three weeks because of a COVID-19 outbreak, the Fighting Irish (3-0, 2-0 ACC) allowed 405 yards in a 42-26 victory last Saturday against Florida State. Now the Irish meet second-year coach Scott Satterfield's Cardinals (1-3, 0-3) who lost their third straight game and second consecutive on the road last Friday at Georgia Tech, 46-27.
NCAA Football – College Football
Saturday
Louisville at #4 Notre Dame, 2:30 p.m.
MLB – MLB Postseason – League Championship Series (Best of 7)
Yesterday
American League
Houston Astros 4, Tampa Bay Rays 3                                                    (TBR leads 3-2)
Astros 4, Rays 3 – Astros extend season
The Houston Astros have forced a Game 6 in the American League Championship Series.  Carlos Correa launched a walk-off home run to center field off Nick Anderson in the bottom of the ninth to end the Astros' 4-3 win over the Tampa Bay Rays. Houston wasted leads of 1-0 and 3-1 before Correa's sixth home run of the postseason. Houston's offense began in the same manner it finished. George Springer opened the scoring by homering on the first pitch by John Curtiss in the bottom of the fifth. Michael Brantley added a two-run single that gave the Astros a 3-1 lead, but the Rays eventually tied it on solo blasts by Randy Arozarena and Ji-Man Choi. Seven Houston hurlers combined on a seven-hitter. Ryan Pressly worked 1 1/3 innings to get the win. Brandon Lowe also homered for the Rays.
National League
Atlanta Braves 10, Los Angeles Dodgers 2                                           (ATL leads 3-1)
Braves 10, Dodgers 2 – Braves go up 3-1
The Atlanta Braves are one win from ending a two-decade World Series drought after a 10-2 win over the Los Angeles Dodgers in Game 4 of the NL Championship Series. The Braves have a 3-1 series lead. A win Friday sends them to their first World Series since 1999.  Marcell Ozuna had four hits, including two solo homers and an RBI double in their decisive six-run sixth inning.  Braves starter Bryse (brys) Wilson was terrific over six innings, allowing just one hit while striking out five in his postseason debut. Wilson's only mistake was a third-inning, solo homer by Edwin Rios.  Three-time NL Cy Young Award winner Clayton Kershaw took the loss when he didn't make it out of the 6th.
Today
American League
Houston (Valdez 5-3) vs. Tampa Bay (Snell 4-2), 6:07 p.m.                    (TBR leads 3-1)
National League
Los Angeles Dodgers (May 3-1) vs. Atlanta, 9:08 p.m.                          (ATL leads 2-1)
NFL – National Football League – Week 6
Sunday
Detroit Lions at Jacksonville Jaguars, 1:00 p.m.                Cosy/WIRX 11:00
Chicago Bears at Carolina Panthers, 1:00 p.m.
Cincinnati Bengals at Indianapolis Colts, 1:00 p.m.
Los Angeles Rams at San Francisco 49ers, 8:20 p.m.          WSJM 7:30
NFL – Chiefs sign Le'Veon Bell 2 days after release from Jets
The Chiefs have signed Le'Veon Bell, two days after he was released by the Jets. The move gives the defending Super Bowl champs greater running back depth behind Clyde Edwards-Helaire, who has been one of the league's most impressive rookies this season.
MHSAA – High School Sports
Yesterday
Boys Soccer – Districts round 1
Paw Paw 1, Edwardsburg 0 – Shootout
Plainwell 2, Hastings 0
Otsego 2, Allegan 0
Portage Northern 2, Kalamazoo Central 1
Kalamazoo Loy Norrix 6, Battle Creek Lakeview 0
Comstock 3, Parchment 0
Fennville 1, Kentwood Grand River Prep 0
Boys Tennis – State Finals (round of 16)
Detroit Country Day 7, St. Joseph 1
Traverse City St. Francis 8, Brandywine 0
GR Northpoint Christian 7, Berrien Springs 1
Girls Volleyball
New Buffalo 3, Michigan Lutheran 1
Schoolcraft 3, Coloma 0
Edwardsburg 3, Allegan 0
Sturgis 3, Otsego 2
Plainwell 3, Three Rivers 2
Constantine 3, Martin 1
Vicksburg 3, Dowagiac 1
Kalamazoo Hackett 3, Watervliet 2

Today
Boys Soccer Districts
Niles at Vicksburg, 6:00 p.m.
Football (All games start at 7:00 unless said otherwise)
SMAC
Gull Lake (0-4) at St. Joseph (3-1)                               News/Talk/Sports 94.9 WSJM
Battle Creek Lakeview (4-0) at Lakeshore (3-1)              97.5 Y-Country
Mattawan (1-3) at Kalamazoo Central (1-3)
Battle Creek Central (1-3) at Portage Central (0-4)
Non-Conference
Benton Harbor (1-3) at Kalamazoo Loy Norrix (0-4)        Updates on WSJM during St. Joe/Gull Lake
Allegan (0-4) at Wyoming Lee (1-3)
Three Rivers (0-4) at Ithaca (4-0)
GR Northpointe Christian (2-2) at Delton-Kellogg (2-2)
Portage Northern (4-0) at Holt (1-2)
BCS
Brandywine (3-1) at Berrien Springs (1-3)
Buchanan (4-0) at Niles (1-3)
South Haven (2-2) at Comstock (2-2)
SAC
Watervliet (2-2) at Coloma (3-1)
Constantine (3-1) at Kalamazoo United (4-0)
Lawton (4-0) at Schoolcraft (3-1)
Galesburg-Augusta (0-3) at Saugatuck (2-2)
Cassopolis (2-2) at Mendon (3-1) – Cancelled
Southwest 10
Centreville (4-0) at Hartford (0-4)
Fennville (0-5) at Parchment (1-4) – Fennville forfeits, Parchment wins 1-0
SW Michigan 8-Man
Lawrence (3-1) at Michigan Lutheran (1-3)
Bridgman (3-1) at Eau Claire (1-3)
Gobles 12 at Bloomingdale (2-2)
Vandercook Lake 21 at New Buffalo (3-1)
River Valley (1-3) at White Cloud (2-3) – River Valley forfeits, White Cloud wins 1-0
Saturday
Football
Edwardsburg (4-0) at Bay City Western (2-2), 1:00 p.m.
Paw Paw (4-0) at Detroit Country Day (2-1), 3:00 p.m.
Wyoming Tri-Unity (2-2) at Martin (3-1), 5:00 p.m.