Monday Local Sports Results – WRBI Radio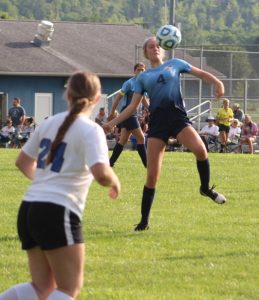 Batesville Varsity Boys Tennis team was defeated by Greensburg 3-2.
Lleyton. Ratcliffe won at #1 Singles along with the. #1 doubles team of Sam Voegele & Max. Giesting. 
Batesville will travel to East Central on Tuesday for a 4:30 start.
Courtesy of Bulldogs Coach Mike McKinney.  
The Batesville Lady Bulldogs won the three way match at Hillcrest Golf Course with a score of 172.  Switzerland County 236 and Oldenburg Inc.
Emma Weiler led the Bulldogs with a 36 Haley Hines shot 52 for SC and Emerald Simmons had 52 for Oldenburg. Other scores for the Bulldogs were Josie Meyer 43, Tori Harpring 45, Madelyn Pohlman 4,8 Chloe Murphy 60.
Also Emma Weiler was nominated for Cincinnati Enquirer Athlete of the Week in Golf. Go to their website and vote.
Courtesy of Bulldogs Coach Tom Meyer.
The 8th Grade North Decatur Lady Chargers improve to 4-0 with a 25-18, 25-15 win over Waldron!
Great teamwork! First home match tomorrow vs St. Mary's
Courtesy of Chargers Coach Becky Bingham.
Batesville High School was the "setting" for the freshman girls' volleyball game against Lawrenceburg Monday night. Batesville won in two sets. Both sets ended with a score of 25-19.  
Kaylin Hinners did a fantastic job serving and went 7 for 7 with 1 ace. Laura Schwegman's serves were a thing of beauty. She went 8 for 8 as well. Kaylie Raver had five amazing kills. Isabelle Wonnell ended the evening error-free on offense. 
Tuesday, September 1st,  the Varsity and Reserve teams will take on Lawrenceburg at the Batesville gym.
Courtesy of Bulldogs Coach Vickie Heil.
FCHS Girls Golf team put in another dominating performance at Brook Hill vs New Castle 160-188. 
Lady Wildcats Scores: Camryn Brewer 39; Gracie Graf 40; Nicole Mears 40; Crystal Calihan 41; Kelsie Brackney 48; Lillie Graf 50; Jacy Grimmeissen 54. 
Cats will be back in action next Tuesday at Brook Hill vs Lawrenceburg.
Courtesy of Wildcats AD Denny Dorrel.
FC hosted EC and what a match it was to attend. Even though we did lose to EC 25-22, 25-27, 25-22, 25-12, it was great to see the drive in these young ladies on the court. We did take set 2 in a win by two point 27-25.
'I am very pleased with the level of play against EIAC EC. Makyah Richardson had 4 kills and 3 blocks. Alex Gillman had 1 kill, 1 block, 1 ace serve and 8 digs. Jenna Bruns had 1 kill, 1 block, 2 ace serves and 2 digs. Meredith Hoff had 4 kills and 2 digs. Kassidy Schell had 4 kills, 2 blocks, 5 assists and 8 digs. Saige Mergenthal had 3 kills, 2 blocks and 1 dig. Kacie Williams had 8 assists and 3 digs. Kim Settles had 18 digs. Rae Ertel had 1 dig.' Wildcats Coach Jill Mergenthal.
Wednesday, Sept. 2nd, F/JV/V will host Rushville back to back to back matches. Freshman game starts at 5:30. Come out and support your Lady Cats!!!