Pre-K fall sports registration is open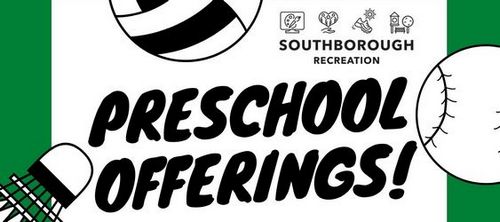 Southborough Recreation is offering three outdoor sports classes for preschoolers this fall. Parents can sign kids up to play soccer, T-Ball, and/or a combination of those sports and more.
Classes are for kids ages 3-6 years old and will all be held at Fayville Park on Central Street. The programs kickoff the last weekend of this month and run to mid-October. Registration opened today.
PreK Tball
Saturdays – September 27 to October 18
9:00 – 9:45 am at Fayville Park
Let's take a walk through the fundamentals of America's favorite pastime. The children will learn the basic skills in fielding, throwing, hitting, and base running. In addition, they will play games such as home run derby, last one standing, and running bases. This is an easy introduction into t-ball where learning and skill development are our priorities. ($80)
PreK MultiSports
Saturdays – September 26 to October 17
10:00 – 10:45 am at Fayville Park
This program is a combination of warm-up games and sports such as soccer, kickball, and Tball. It will ease children into learning the basics of all these great games as well as teaching them the importance of team work! Each class F.A.S.T. Athletics will have new and exciting games planned for the students. ($65)
PreK Soccer
Sundays -September 27 to October 18
9:00 – 9:45 am at Fayville Park
Our First KIX classes are unique and not like any other sports program. They are purposely designed to be FUN, age appropriate and a high energy experience for children. Our soccer and programs feature exciting games and activities to teach the fundamental skills of the sport. Your child will learn to participate in a group, follow simple instructions, cooperate with peers, develop gross motor skills, and let's not forget, the obvious benefits of having them burn off some of that energy! First KIX coaches are highly experienced in dealing with this age group of children and are brilliant at what they do! ($80)