Coronavirus: Leeds expected to become 'area of concern'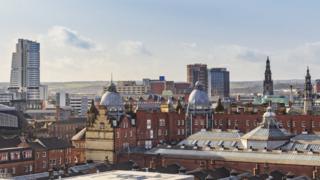 People in Leeds must make a "collective effort" to avoid further coronavirus restrictions, councillors have warned.
The city is expected to be added to Public Health England's weekly watchlist as an "area of concern" after its seven-day infection rate rose to 29.4 cases per 100,000 people.
If cases continue to rise, more stringent measures could be imposed.
Council leader Judith Blake said it was "a pivotal moment in our efforts to control the spread of the virus".
"Nobody wants to see further restrictions on life in Leeds," she said.
"The harsh reality is that if our infection rate continues to rise as it has been, we will be left with no alternative".
The council said 44 new cases were identified in Leeds on Wednesday and Ms Blake said there were a "range of things" behind the rising numbers.
She added: "This is a rise in all different wards across the city, particularly in young adults of all communities.
"September is a critical time, we have our schools going back and then we have significant numbers of students travelling from all over the country and beyond to come back to our universities."
Other parts of West Yorkshire have been subject to tighter coronavirus restrictions for several weeks.
Local businesses expressed concern over the impact of a potential local lockdown in Leeds.
Nico Pantu, owner of Grimm Tattoo Studio, said: "If Leeds is to go back into lockdown, for us it could be catastrophic.
"Another lockdown would absolutely affect the whole city and most likely leave lasting damage to Leeds and its wide range of independent businesses."
James Dixon, who owns the Doghouse Bar and 212 Cafe Bar, said: "My concern is whether it will frighten people off again and ruin footfall for the bars, when we've literally just got back them to a position where we're managing.
"My worry would be if there's a local lockdown, are people going to not go out? That will destroy us. And will there be extra support from the government and council? Probably not.
"It's not their fault but if we have to keep shutting over the next year or so, I'm going to get the point where I'm just not going bother anymore because we'll just accumulate debt and then you end up just working to pay off debt."
West Yorkshire is a densely populated metropolitan county and some parts of it have been subject to restrictions because of coronavirus for a few weeks already.
Leeds has escaped these local rules because infection rates weren't high but that's changed.
The latest seven-day infection rate shows the city has 29.4 cases per 100,000 people, with 44 new cases on Wednesday.
The local authority now expects it to be added to Public Health England's weekly watchlist of areas of concern.
This doesn't mean any further restrictions at this stage but they could be imminent if infection rates continue to rise.
Leeds, unlike neighbouring Bradford, has avoided stricter measures because its infection rates were much lower.
However, there were 261 cases in the week up until 30 August, up from 167 in the week up until 23 August.
The city is now expected to be listed as an "area of concern" for the first time when the government watchlist is published later.
As an area of concern, Leeds would be subject to increased monitoring and could face additional measures if infection rates do not fall.
Officers issued seven fines to organisers of illegal events over the Bank Holiday weekend.
Prof Robert West, from University College London's Institute of Epidemiology, was asked whether issues in the city were "inevitable" following local outbreaks across West Yorkshire.
He said: "The problem is that this remains a very infectious virus and what that means is that if you're near someone, with someone who has it, there's a good chance you'll get it."
Last month, the council said it was introducing "a series of targeted preventative steps" following a cluster of cases in parts of Leeds.
However the most recent rise is not isolated to specific parts of the city.
A range of measures are now expected to be introduced including additional mobile testing units, door knocking in areas of high prevalence, and officials will work with bars, venues and restaurants to make sure they follow Test and Trace guidelines.
Officers injured dispersing illegal gathering
Bars shut doors after coronavirus case
The authority will also work with West Yorkshire Police and community organisations to discourage gatherings and house parties, as well as working with schools, colleges and universities to try and ensure a safe return to education.
People have been urged to follow guidance on social distancing, hand-washing, and wearing face masks while those with symptoms of the virus have been told to stay at home.
The council's public health director Victoria Eaton said it was "imperative we do all we can to contain the spread of this virus and protect one another at this crucial time for the city".
Follow SKYCHURP Yorkshire on Facebook, Twitter and Instagram. Send your story ideas to yorkslincs.news@SKYCHURP.co.uk or send video here.