Oceanator Makes Stirring Indie Rock at the End of the World
FEATURES

Oceanator Makes Stirring Indie Rock at the End of the World
By
Sean Craig
·
September 03, 2020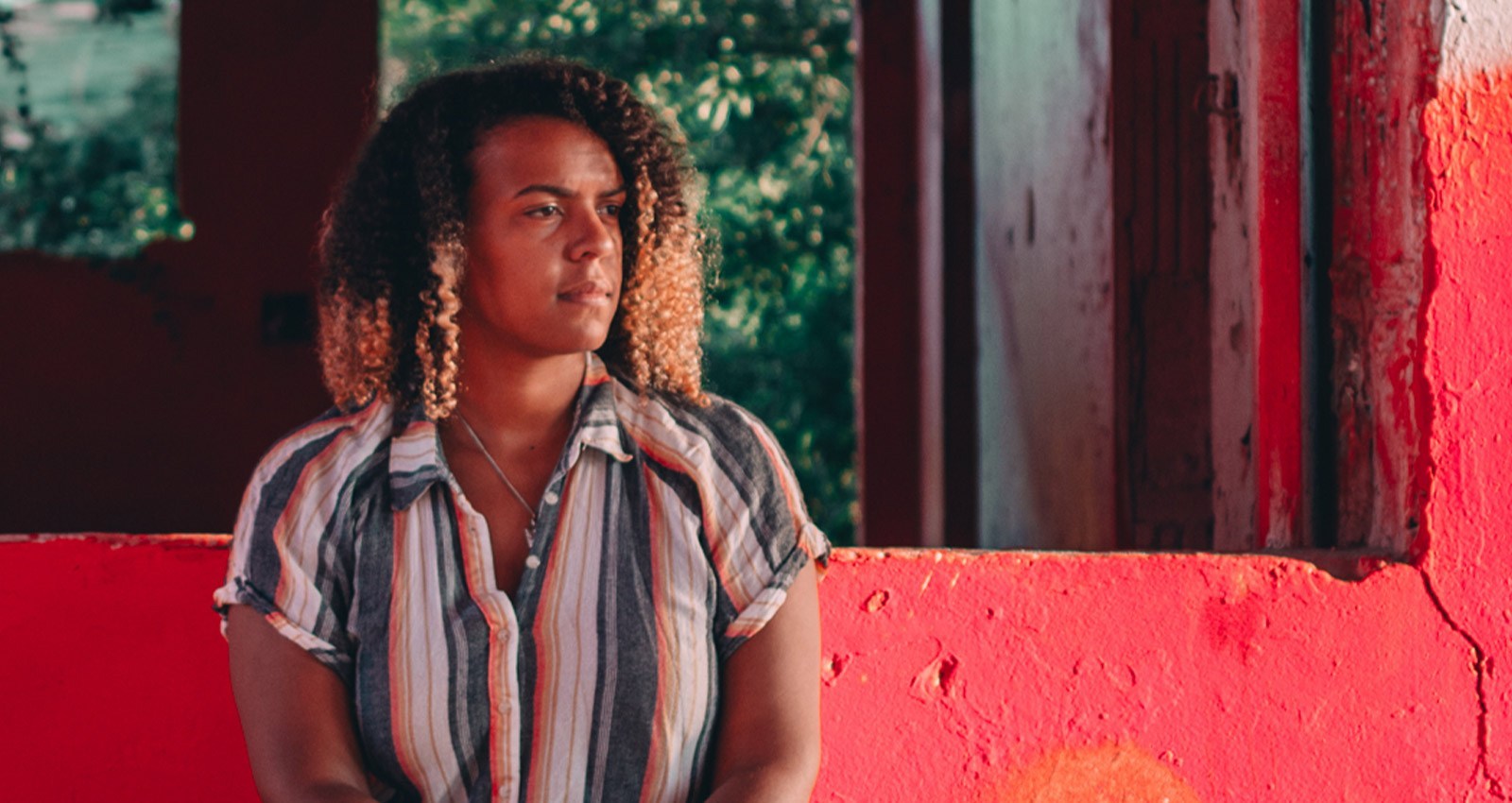 Elise Okusami didn't mean to predict the end of the world. "It's weird, and it honestly makes me stressed out," she says over the phone when I ask her about her full-length debut as Oceanator, Things I Never Said. "If I let myself get too deep into a thought spiral and think about the lyrics to this record—which was [written] before all of this, but is still very much about this—I start to wonder: 'Did we all know this was coming?'"
Give just one listen to Things I Never Said, and it's easy to buy into the idea of Okusami-as-clairvoyant. Throughout the record, she uses apocalyptic imagery as a backdrop for emotional turmoil. "There's a crack in the world, and we're all hanging on trying not to fall through the void," she sings on the album's second track, the first of many dire ruminations on the fate of mankind. If you heard those words any number of years ago—and it must be said that Oceanator's catchy blend of indie rock and grunge pop could slide in neatly to just about any DIY rock movement since the '90s—they might come across as metaphorical. Hearing them in the middle of 2020, they feel unnervingly prescient.
Though Things I Never Said was written and recorded two years ago, it's only now seeing the light of day—a delay partially caused by the recent implosion of the album's original record label. While it's tempting to treat this year as an anomaly, Okusami is quick to point out that it's really more of a culmination, the natural conclusion to a history of injustice and incompetence. "Things are always happening, and I think a lot of stuff that you're feeling is just in your subconscious and comes out in song," she says. "It's not like there weren't signs pointing to this."
On Things I Never Said, Okusami's subconscious manifests as much in her lyrics as it does in the timbre of each song. Standout single "I Would Find You," with its staccato bassline and eerie synths, sounds like a desperate struggle to find companionship before the world stops spinning. Not every track is desolate and dire; tracks like "Heartbeat" and "Walk With You" offer retro, almost rockabilly-esque reflections on personal relationships. But the overall mood of the album is similar to its guitar tones: warm, but also distorted and trembling.
At the end of it all comes "Sunshine," a song that is stunning in its sparseness. With only a few power chords and the sound of her own voice, Okusami calmly walks right into the eye of her emotional storm. "I'm going outside today," she sings. "I'm feeling like things might be OK." On their face the words might seem simple; but now, when the simple act of leaving the house is fraught with unseen dangers, they feel downright radical. Written as Okusami was starting to overcome the turmoil detailed on Oceanator's last EP, Lows, Things I Never Said offsets its doom and gloom with rays of hope. Or, as Okusami puts it: "Yeah, things are really awful right now. But they can be better."
NOW PLAYING
PAUSED
by
.