Smuggle a lion: A Nebraskan's unusual post-World War II mission | Omaha State and Regional News
"One thing I want you to remember," Oldfield told Sgt. Watters (whose first name is not known), who drove the 10-ton trailer. "If we are stopped at any Russian checkpoint, and you are asked what the load is, tell them it's scrap metal and junk." Because the statue's leg, tail and head plate had been disassembled and half-buried in sawdust, Oldfield hoped Russian inspectors would fall for the ruse.
Early on a cloudy, frosty Oct. 4, Oldfield's convoy left Berlin. Oldfield's hand-picked cameraman, soundman and photographer rode in the open-top jeeps. Two army sergeants drove the truck with the 4-ton lion. Oldfield and Ringsted trailed. Rations of cheese, biscuits, port and scotch came along for the ride.
Every few miles on the 110-mile road from Berlin to Helmstedt, the first leg of the journey, Russian sentry boxes appeared from the cold, damp haze. The sentries waved idly at the American convoy. "Nobody made a move to come out," Oldfield wrote.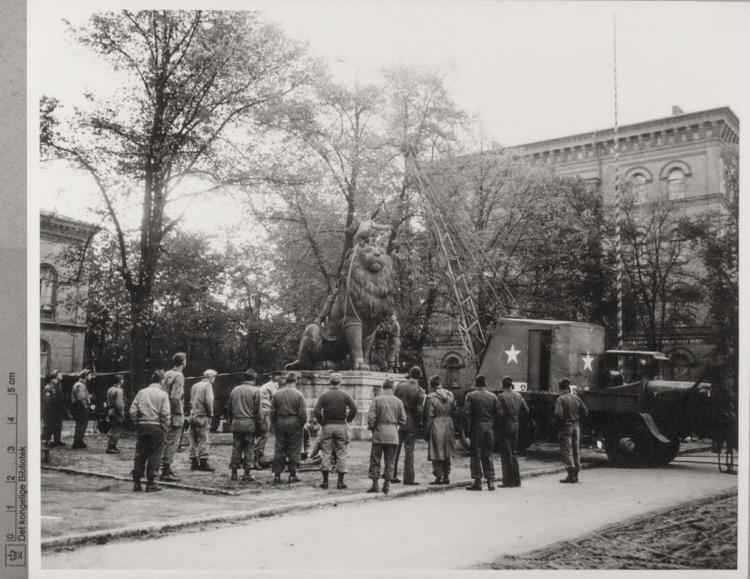 Soon, the caravan rumbled onto the Russian-built Elbe River bridge. As the morning sun burst through, two Russian soldiers stepped onto the bridge's west end and flagged the Isted Lion's convoy to a stop. "One of the Russians had his gun slung over his back, his hands in his pockets," Oldfield wrote. "The other carried his rifle at high port, ready."
The soldier poked his rifle under the trailer's tarp while the other Russian examined Sgt. Watters' travel papers.